other useful travel information for india
PASSPORT & VISA
All foreign citizens who intend to travel to India must have a regular travel document, a passport with a valid visa. The visa can be requested from the Indian authorities and the diplomatic representations of India abroad. The Visa application can be submitted online as well. Citizens of Bhutan and Nepal, who enter India from their respective countries, are exempt from applying for a visa. Passengers arriving in India must pass through the immigration office checks. Please check Covid guidelines above for hassle free arrival in India.
TIME ZONE
All locations in India are based on the same time zone GMT + 5 hours 30 minutes....
ARRIVAL AT AIRPORT
Upon arrival airport in India, you must first complete the immigration procedures at the Immigration Office, then you can collect your luggage and finally go through Customs. Since there is usually a long queue at the Immigration counter, we advise you to quickly reach the counter and present the duly completed arrival card (which is delivered to you on the plane by the crew). Kindly check the above guidelines and the official website of the airport for more details.
OPENING & CLOSING TIME
Post offices - Banks - government offices are open from Monday to Friday from 10 am - 4 pm but some public offices and banks are open on alternate Saturdays as well from 10 am - 02 pm. Wearing masks is mandatory to enter any banks and offices. The shops and shopping malls do not follow standard opening hours. In major cities, they are generally open until 8 pm seven days a week during this covid time however it is better to check with state and local government bodies for updated timings. Restaurants and bars also follow the covid rules and they are generally open until 8 pm seven days a week during this covid time however it is better to check with state and local government bodies for updated timings.
CREDIT CARD - CURRENCY - EXCHANGE
In most Indian cities, you can use major credit cards but, cash is required if you are traveling to remote locations or small villages. The official currency of India is the Rupee, the symbol of which is ₹. The banknotes currently in circulation have denominations of 5, 10, 20, 50, 100, 500, and 2000. You can exchange foreign currency into Rupees at banks, hotels, as well as at authorized exchange offices. Almost all cities in India have ATM service which accepts VISA and MasterCard or American Express.
TIPS OR GRATITUDE
Tips or gratitude is a culture in India & it is customary to tip the waiters, porters, guides, and drivers. 10 % of the total bill is the handsome tip in hotels and restaurants.
PLUG & ELECTRICITY
India uses 230 Volts, 50 Hz alternating current as of the power source. Plugs and sockets have either grounded/earthed 3 Pin connections (Type D) or ungrounded 2 pin connections (Type C).The two-pin plug is also called the Europlug. It has two round 4 mm (0.157 in) pins. It can be inserted in either way into the socket AC, If you have electrical appliances that do not meet these standards, you may need to bring converters and adapters with you.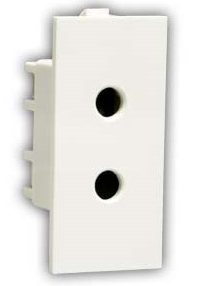 FOOD & DRINK
Indian cuisine is as varied as the country itself, and each state has its own delicacies. Generally in India you dine with water. Imported wines and spirits are now easily available, especially in major Indian cities. The quality of indigenous wines is also improving and has reached international standards. Indian beer and rum are considered excellent, Gin and vodka decent, Indian whiskey is common. Remember to always and only drink from the bottles made available in the Hotels or purchased in the shops. Always carry supplies of mineral water when traveling. International food chains like MacDonald, Subway, domino's are available in big cities to get a break from Indian curry.
RELIGIOUS PLACES
India has temples everywhere, visiting worship places like mosques, temples require an appropriate dress covering shoulders and knees. It is forbidden to carry leather garments or accessories inside. Covering head and removing shoes outside required in most places.
WEATHER FORECAST
The climate in India varies according to geographic location and season. In northern India, the climate during the late autumn and winter months from October to March is dry with average temperatures hovering around 7 ° C (45 ° F) in the early morning and evening and 21-25 ° C (70 at 75 ° F) during the day. June till August is monsoon time in almost entire India except for some northern part of the upper Himalayas mountain range.
PHOTOGRAPHY
India offers visitors many ideas for photography. However, it is necessary to know the rules in force in order not to run into problems: for the use of tripods and artificial light on the monuments, special authorization is required from the Archaeological Service of India, New Delhi. Special permission is required for any photography for advertising and commercial purposes. It is forbidden to take photographs in tribal areas. It is also forbidden to take photographs of the sensitive area of airports, railway stations, bridges, military, and aviation installations.
SIM CARD
You can buy a prepaid sim card upon arrival at the airport, to obtain it, guests must present a copy of their passport and 2 passport-sized photographs. After purchase services started within few hours and you need to recharge the data as per the plan of the telecom company. Airtel and Vodafone are the largest and reliable telecom companies with the best data plans.
NATIONAL HOLIDAY
Public holidays: January 26 - Republic Day: August 15 - Independence Day: October 02 - Gandhi's birth anniversary - December 25 - Christmas. There are also other local holidays in the different states.